Oude Hoogstraat 2-H
This is the place where Burger Zaken began. In 2012 it opened his doors with the passion to make the finest and juiciest burgers in Amsterdam. It is located in a historical Dutch building established in 1902, this makes this location feel very homely and comforting. When you enter the shop you will be pleasantly greeted by our friendly staff and the smell of juicy burgers. One of the very appealing factors about this location is that we have a unique open kitchen. No matter where you choose to sit you will have a perfect view of how your burger is being made. The combination of the helpful staff, quality food, and the overall chill atmosphere makes it a must to experience!
Opening Hours
| | |
| --- | --- |
| Mon | 12:00 – 21:00 |
| Tue | 12:00 – 21:00 |
| Wed | 12:00 – 21:00 |
| Thu | 12:00 – 21:00 |
| Fri | 12:00 – 22:00 |
| Sat | 12:00 – 22:00 |
| Sun | 12:00 – 21:00 |
Oudezijds Voorburgwal 222–D
With the success of the first Burger Zaken we've decided to expand to a second, more spacious location. This restaurant is only 180 steps away from the original Burger Zaken. One of the unique factors about this location is that you have the choice to sit inside or outside. When you sit at our canal-side terrace you will have a perfect view of the city and it's life. Also if you want to sit inside and be warm and cosy you can experience the same vibe by choosing one of our window seats. Or if you want to watch your burger being created you can choose one of our taller tables that surround the kitchen. In the back we have a more quiet area, which is good if you're with friends and family. Whether you're dining alone or want to eat in a group, there is always a place for you! In this Burger Zaken unlike the other you can order alcoholic beverages, such as wine and beer. If you're in the mood for a burger and a drink, you're at the right spot!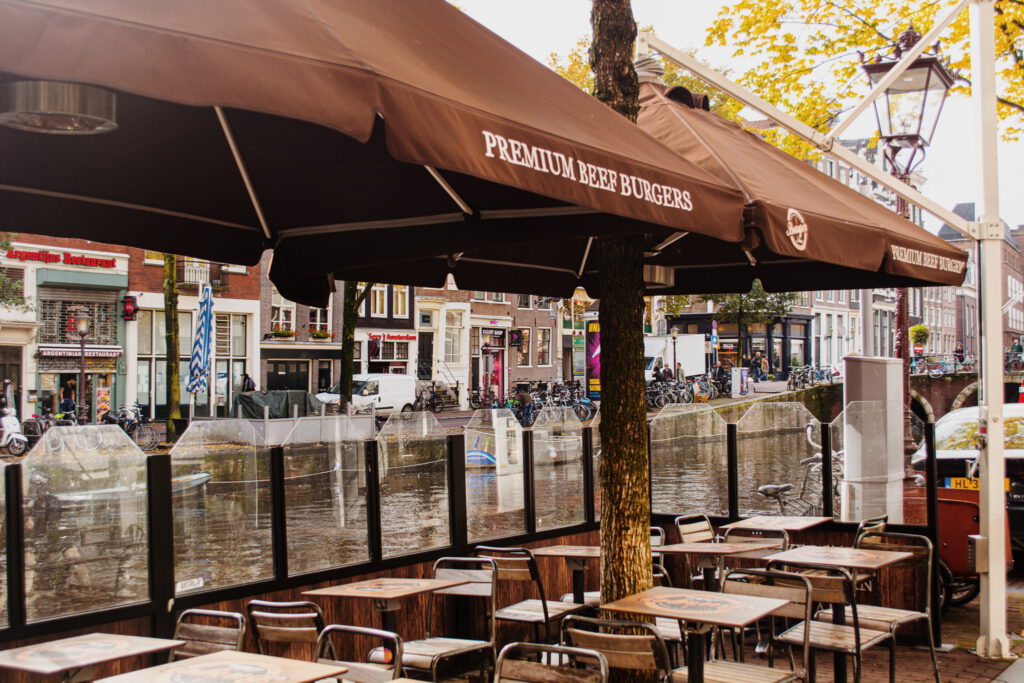 Opening Hours – Temporarily closed due to covid19 measures.